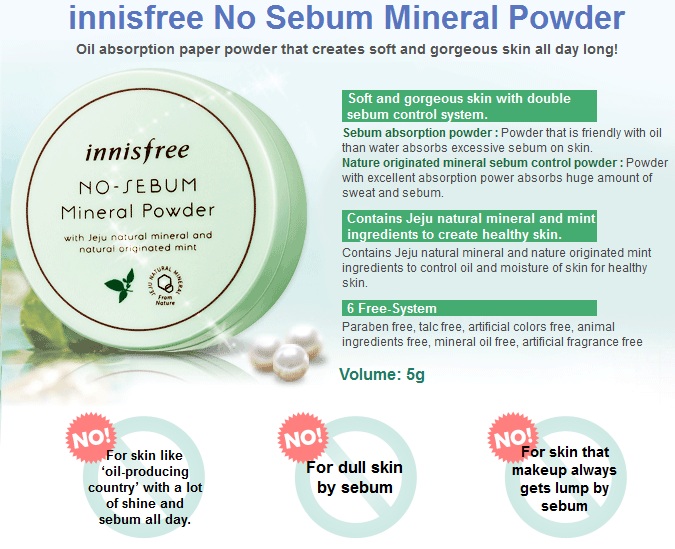 Assalamualaikum readers.
Yeay harini aku rasa nak kongsi and review apa yang aku beli dan guna akhir-akhir ni. Mana tahu berguna untuk korang jugak kan :) Meh baca hihi
Few days ago, aku ada beli something from Hermo. Yeah, one of it is
Innisfree No Sebum Mineral Powder
. I know that most of you dah tahu mengenai this cute thing right. Tapi apa kegunaan
no sebum mineral powder
ni kan?
INNISFREE NO SEBUM MINERAL POWDER
1. Sebum control powder that allows for non-greasy, downy baby skin.
Sebum absorption powder and mineral sebum control powder absorb excess sebum for a bright, downy skin as if presently putting on makeup.
2. Jeju natural minerals and mint for refreshing control of oil and moisture
Sebum absorption powder with Jeju natural minerals and mint restores an unhealthy balance of oil and moisture, leaving a refreshing finish.
3. Absorbing excess sebum and oil for downy makeup and an even skin tone
Absorbs excess sebum and oil to prevent makeup from becoming patchy, while correcting dull skin tone to keep the skin bright and radiant all day.
Okay, so macam mana pulak nak guna?
CARA PENGGUNAAN
In the last stage of your daily skincare routine or makeup, use powder puff to gently apply onto entire face or sebum concentrated areas
Haa gituuuu. Ada faham? :) Kiranya, bedak ni untuk kawal minyak dekat muka sebab tu nama dia 'no sebum mineral powder'. Dia nak kawal sebum kat muka korang tu. Takde lah berkilat je bila keluar rumah ye idok?
Setakat yang aku dah guna, seriously aku cakap memang tak berkilat seh muka. Even keluar seharian pun, muka tetap maintain kering. Dia bukan kering yang mengelupas tu tau, dia kering yang menunjukkan kurangnya minyak kat muka. Even berpeluh, just lap sikit lepastu okay dah. And now, my mom pun guna. Katanya best bila dia pakai pergi kerja since seharian kat tempat kerja tapi muka maintain tak macam sebelum ni :) So, korang semua should try this kalau muka jenis berminyak atau cepat berpeluh/berminyak hokey. Aku beli ni dekat Hermo, harga dekat Hermo dalam RM19, saiz dia comel je. Mudah untuk bawak pergi mana-mana.
Tengok saiz dia atas tu, kecil je. So, untuk sesiapa yang nak dapatkan produk ni bolehlah cari kat Innisfree atau mana-mana store yang ada jual lah. Tapi nak murah, aku prefer Hermo. This review is not sponsored. Thank you readers. Anything, just comment down below :)
For this product, I give 4.5/5