Assalamualaikum readers!
Yesh, harini aku nak buat simple review regarding this movie yang baru jugak lah kat panggung. So aku dgn kawan aku pi tengok wayang since kira baru je habis degree and kebetulan dia singgah KL haha.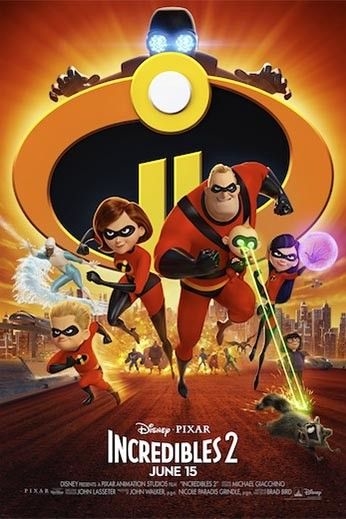 Sinopsis :
Helen is in the spotlight, leaving Bob at home with Violet and Dash to navigate the day-to-day heroics of "normal" life. It's a tough transition for everyone, made tougher by the fact that the family is still unaware of baby Jack-Jack's emerging superpowers. When a new villain hatches a brilliant and dangerous plot, the family and Frozone must find a way to work together again, which is easier said than done, even when they're all Incredible.
Credit to the owner
Alright, keseluruhan cerita memang best. This is one of my fav animation superheroes series actually. Masa The Incredibles, cuma ada superhero family ni dgn Frozone and the enemies, but in Incredibles 2 ada penambahan superhero haha cool huh? Tambahan lagi, spotlight cerita ni most dekat Helen and family ni discover that baby dorang tu ada pelbagai superpower hahaha which is totally awesome. Lepasni biar baby tu je buat semua haha. Yang buat aku kagum jugak adalah bila aku tgk kemewahan yang ada dalam cerita ni dgn teknologi dorang, tak tahu kenapa, nampak canggih je. Btw, it's a nice animation movie utk korang tengok santai santai k :) Just my opinion.
Untuk filem ni aku bagi 4 out of 5