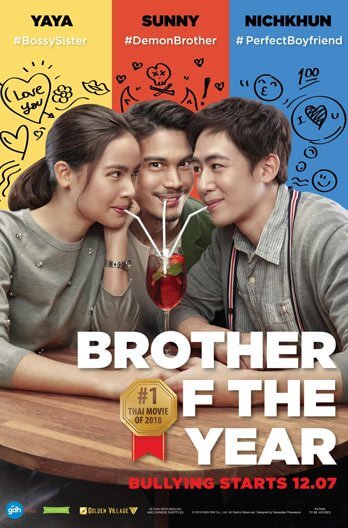 Assalamualaikum readers!
As usual, another movie review by me. Taknak intro panjang sangat nanti korang pun bosan baca haha, lets just straight to the point k everyone :)
Sinopsis :
A man has to learn how to take care of himself when his sister gets married and moves out
Simple sinopsis dia. Its a THAI movie gais. Siapa layan thai movie selain aku sila angkat tangan haha. Aku selalu layan movie thai kat rumah tapi ni layan pi panggung weh. Review orang lain bagus bagus je movie ni. And now, aku dah tengok pun anddddd....
Yup, not bad cerita dia. Best bagi aku sebab more kepada family relationship between the bro and the sis. Macam apa dalam sinopsis, cerita dia kita tengok macam mana seorang abang nak take care of himself bila adik dia takde di sisi dia sebab adik dia yang banyak jaga dia dari dia yang jaga adik dia. Aku geram juga bila tengok perangai abang dia, sabar jelah. Selain tu, the actor pun helok teroxx, the actress pun cantik. I thought there is a plot twist but haha korang tengok lah nanti kalau terasa nak tengok :) Movie dia tak berat untuk tengok, just nice. Dia tak lah sedih sentiasa haha its kinda funny cerita dia but there is still serious and sad scenes so just enjoy watching the movie k :) Sesiapa yang ada beradik atau abang, perhaps lagi suka tengok cerita ni kut sebab aku yang takde abang pun boleh enjoy and menitik juga lah part sedih tu.
Okay that's my review, sorry kalau tak panjang sebab kalau aku review panjang risau tercerita whole story haha. Btw, korang okay ke kalau aku review more dramas, movies which maybe includes malay/english/others country films/dramas?